What Would a Convention on Plastic Pollution Look Like?
It is increasingly clear that to prevent plastic pollution will require a dedicated global framework, a Convention on Plastic Pollution, that addresses the full lifecycle of plastics from production and design to waste prevention and management. We need a Convention on Plastic Pollution that builds upon and complements existing national and regional initiatives while otherwise addressing the significant gaps that exist that currently prevent us from eliminating plastic pollution and creating a safe circular economy for plastics.
We have developed what we call a 'Thought Starter' on the elements and design of a Convention to start the policy debate. The issue of whether to initiate formal negotiations will be on the table at UNEA-5. You can read our Thought Starter and watch an online presentation to the Ad Hoc Open-Ended Expert Group on Marine Litter and Microplastics.
We are not alone in our call for a Convention on Plastic Pollution. Countries from around the world are joining in with several high-level ministerial declarations, including from the Nordic, Caribbean and African regions. Over the coming year, we will continue to make the case for global action, engaging countries from around the world to identify their needs and priorities and encourage their leadership and support.
Infographic
A Global Agreement on Plastics

(link opens in new window)
In this EIA podcast our Senior Lawyer, Tim Grabiel, takes us on a journey from fossil fuels to waste disposal, explaining why we urgently need to change our approach to plastics.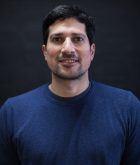 (Left to right)
Paul Newman – Press and Communications Officer,
Tim Grabiel – Senior Lawyer
Comparison Table on the Potential Resolutions on Plastic Pollution to be Adopted at UNEA 5.2
As we approach UNEA 5.2, there are two draft resolutions (decisions) on plastic pollution currently tabled for discussion at UNEA 5.2 in 2022 – one from Rwanda/Peru, and another from Japan. This document provides a textual comparison of the two draft resolutions. It shows the evolution of the working document from Japan into the draft resolution, (formally submitted on December 6th, 2021), alongside the Rwanda-Peru resolution (initially presented in September 2021). The intention is to provide a comparison to support discussions on the potential merging of the draft resolutions ahead of UNEA 5.2. This document was prepared jointly by the Environmental Investigation Agency and the Center for International Environmental Law.
Regional champions will be a critical component of securing the global Convention on plastic pollution. In partnership with the Centre for International Environmental Law (CIEL) and Massey University, EIA are working in South Pacific and African Regions to foster support for a new Convention and identify needs and expectations of what a global convention could deliver for their respective regions. To serve this objective, we have developed a briefing entitled "Islands of Opportunity: Toward a Global agreement for Pacific Islands countries and Territories" which makes the case for how and why Pacific Islanders are disproportionately affected by plastic pollution, and how a global Convention is the only tangible remedy.
To further explore how a global agreement could be of benefit to the Pacific, EIA partnered with researchers from Massey University's Political Ecology Research Centre (PERC) to identify the current limitations in national plastic pollution policy for preventing plastic pollution. The report – termed a 'policy gap analysis' –  also explores the potential to implement best practice for the reduction of plastic pollution and the promotion of a safe circular plastics economy. It takes the first fundamental steps towards analysing the gaps in the region and making concrete recommendations for how these challenges can be overcome through strategic and ambitious policymaking.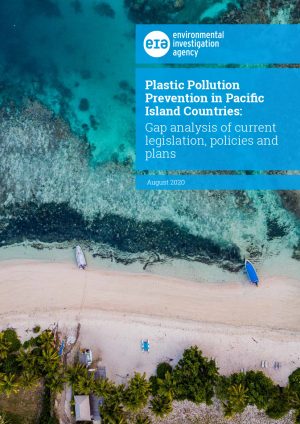 Online presentation to the Ad Hoc Open-Ended Expert Group on Marine Litter and Microplastics
To learn more about the background and way forward for a Global Convention on Plastics, listen to our Senior Ocean Campaigner, Christina Dixon, present on the thought-starter to the United Nations Ad Hoc Open-Ended Expert Group on Marine Litter and Microplastics (above)
FAQ: Why do we need a global agreement on plastic pollution?
Still have questions? In our FAQ below you can find our position on the most commonly asked questions about our international plastics work.